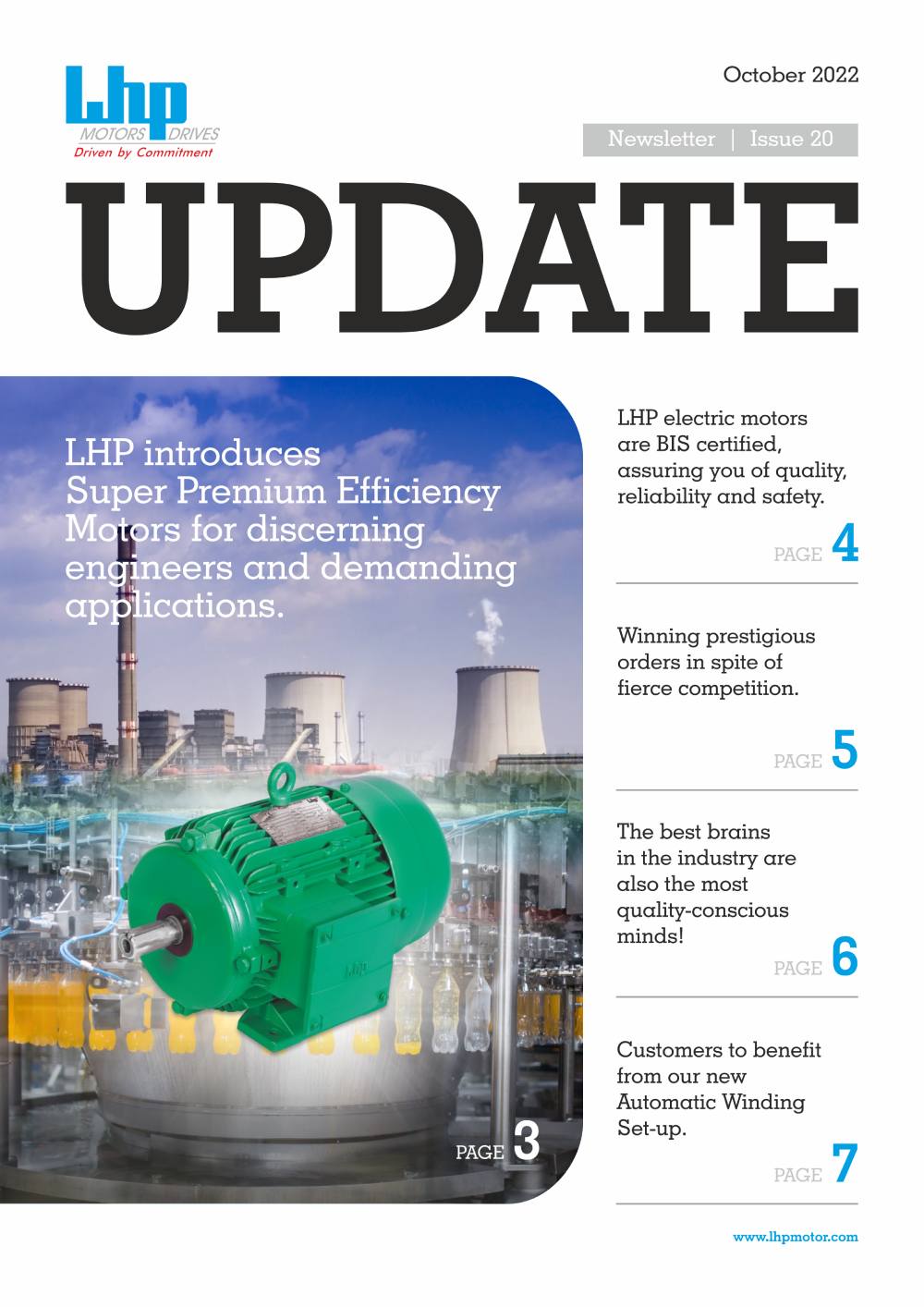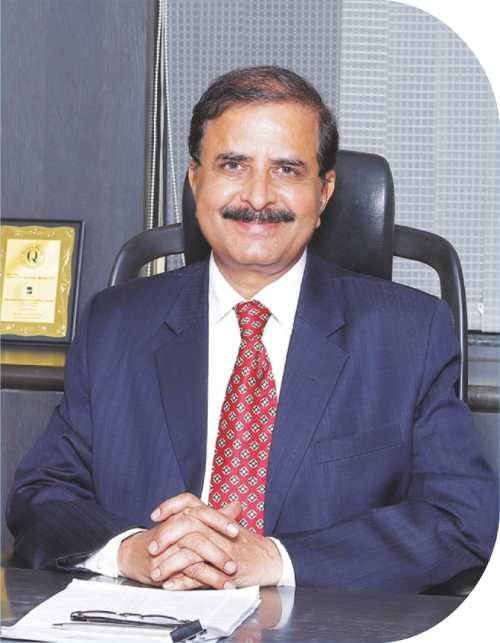 Mentor Speaks
Dear Readers,
I have the pleasure of interacting with you through this newsletter, after a long time. In the last four years, there was a pause in publishing LHP UPDATE as we all were extremely busy in expanding our range of electric motors and upgrading our infrastructure. I am glad that our efforts have yielded good results and we have some great news to share with you.
During the previous financial year, we recorded a phenomenal growth of over 75% in spite of challenges such as the pandemic and material shortage due to disrupted global supply chains. Against this backdrop, we have not only honoured our delivery commitments but also cooperated with our customers to minimise the impact of price escalation.
On the product development front, we expanded our range of Safe Area LT motors up to 1000 kW, 450 frame size and can offer them in the IE2, IE3 and IE4 versions. This makes us the only company in India to offer such a vast range. Even the flame-proof version is available up to 500 kW in the IE2, IE3 and IE4 versions. We are proud that our entire range is certified with the BIS standards and the flame-proof motors are certified with ATEX and IECEx.
On the infrastructure front, we expanded various facilities for handling an additional range and large volumes. This includes installing the Automatic Coil Winding set-up for motors up to 90 frame size, as well as the Vacuum Pressure Impregnation plant to accommodate motors up to 450 frame size.
Read more about these topics and more in this issue of LHP UPDATE. I personally wish to express my sincere gratitude to all the stakeholders for their trust and helping us to achieve this growth.
Sharadkrishna Thakre
Managing Director
Bhoomi Poojan
Recently, we acquired an additional land of 20,000 sq. m for plant expansion, adjoining our B-16 plant in Chincholi MIDC in Solapur.
The foundation stone for the new building was laid by our Technical Director, Aditya Thakre. The new plant will be operational by April 2023.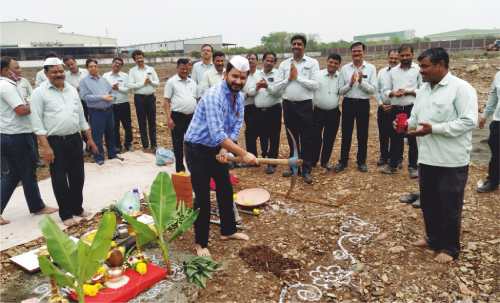 Introducing
Super Premium Efficiency Motors (IE4)
Complete range of LT motors up to 1000 kW, 450 frame with voltage up to 690 V
LHP believes in offering the best and the latest technology to its customers across the world. After the successful development of IE3 motors about 7 years ago, we continued our efforts to further finetune the technology and develop IE4 – super premium efciency motors. About a year ago, we were successful in our endeavour and started conducting thorough trials of IE4 motors as well as
getting approvals from competent authorities.
IE4 motors are built around standard 3-phase motors using special materials and are suitable for a range of applications. IE4 motors from LHP are developed in
accordance with energy-saving guidelines from IEC (IEC/EN 60034-30-1:2014) and approved by BIS as per the latest IS 12615. These motors operate two efficiency bands above IE3 motors, which is equivalent to an almost 20% reduction in energy losses. It is recommended to use IE4 motors when the motors are subject to continuous operations at full load.
By way of our energy-efficient motors, we are not only helping our clients save a signicant amount of energy and reduce operational costs, but are also helping them reduce their carbon footprint and conduct their operations in a more eco-friendly manner.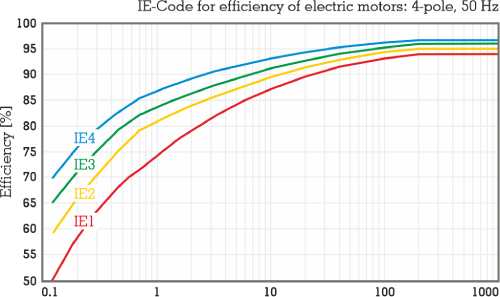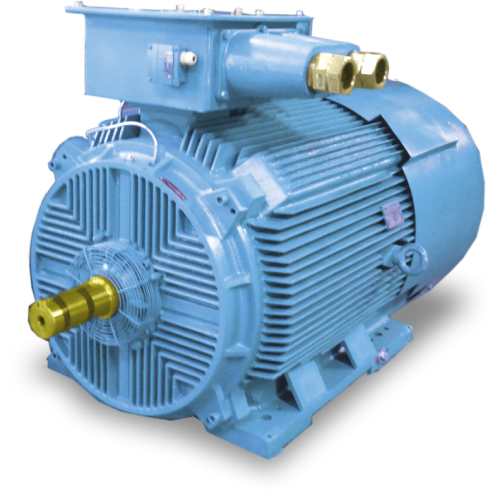 LHP Electric Motors up to 1000 kW are certified with BIS.
Assures you of Quality, Reliability and Safety.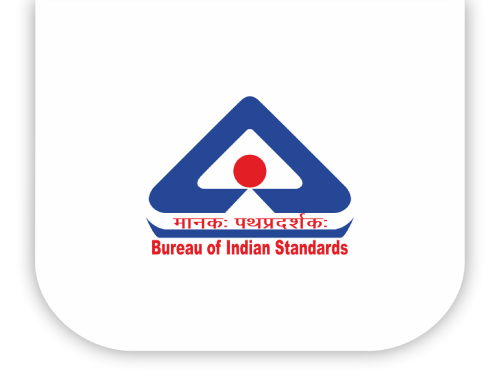 At LHP, our efforts to deliver quality motors do not stop at superior design, adhering to world-class manufacturing practices and maintaining stringent quality standards. We firmly believe that attestation of the quality of our motors from an outside, trustworthy organisation further bolsters the confidence of all the stakeholders. Hence, we ensure that our product quality is regularly validated by various competent, independent organisations.
We received our first QMS certification, ISO 9001, in 1995, which subsequently got updated every time the new standards were introduced. Recently, we have been recertified with ISO 9001:2015 from Bureau Veritas (BVQI).
Simultaneously, we have been certified with BIS as per the IS 12615:2018 standard covering the complete range of motors including line-operated, 3-phase AC motors having an output from 0.12 kW to 1000 kW (Safe Area Motors) and from 0.12 kW to 500 kW (Hazardous Area Motors) and voltage up to 690 V. The certification is applicable for IE2, IE3 and IE4 efficiency class motors and for all the variations of voltage/ mounting/ duty/ insulation-class, etc.
We are proud that we are among the very few manufacturers in India to possess such credentials. We thank all our customers for their continuous support without which this achievement would not have been possible.
Approvals & Certifications
Our proud possessions
EMS 14001:2015
OH&S 45001:2018
PESO for Flame-proof motors LFN 63 to LFN 355 – Gas Group – IIC
PESO for Flame-proof motors LFN 63 to LFN 315 – Gas Group – IIB
PESO approval for Break Enclosure BRKH 63 to BRKH 180, Gas Group – IIC
PESO for Single Phase Flame-proof motors in frame sizes LFN 71, 80, 90 & 100, Gas Group – IIC
TUV for Smoke Extraction Motor suitable for Temperature class 250°C, 300°C & 400°C
NTPC approval for motors up to 450 kW
CE marking as per Directive 2014/34/EU
Short-circuit test approval for 65kA for 0.25 Sec. for the complete range
DGMS approval for Flame-proof Motor used in Coal Mine LF-100, LF-132 to 315 frame size
ATEX – Recertification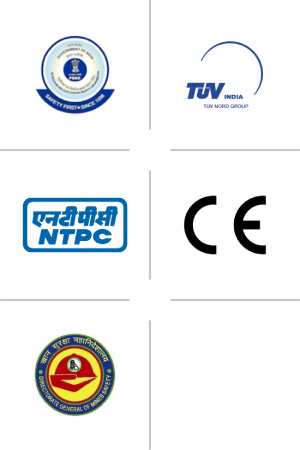 Winning prestigious orders in spite of fierce competition
Recently, we bagged an order for 72 nos. of Flameproof, Dual-Speed, Geared Motors with Brakes. These motors have a complex combination and hence, demand a high level of design competence and vast experience in flame-proof motor manufacturing. Knowing our credentials, this multinational OEM in the coal mining sector placed an order with us. The motors will be used on Paddle Feeders in various coal mines across India.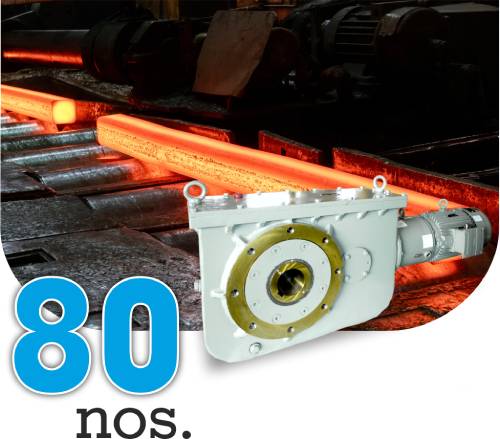 We have a strong presence in the steel sector via our roller table motor solutions. This has helped us win an order for 80 nos. of Bevel Helical Gear Motors for Bloom Caster Roller Table applications in a steel plant. The supply required some development, including a pattern for gearbox housing, machining on a horizontal boring, and innovative fixture designing. After scientific application engineering, we used spiral bevel gears for low noise operation. In spite of several steps, the order was completed within three months.
Samruddhi Mahamarg is an ambitious expressway project by Government of Maharashtra to connect Mumbai and Nagpur. The new expressway boasts of a 7.78 km twin tunnel, which is the widest tunnel in India and Maharashtra's longest twin tunnel. For ensuring proper ventilation in the tunnel, large blowers and fans are used, which are fitted with LHP Smoke Extraction Motors. We have supplied 120 motors for the project and are proud of this achievement. Looking at the success of this project, we have been receiving enquiries for several similar projects.
The best brains in the industry are also the most quality-conscious minds!
At LHP, quality comes first and foremost for everyone. There are no shortcuts or compromises when it comes to quality. This philosophy, right from the inception of the company, is the cornerstone of our business and enables us to deliver the highest value for our customers. When we decided to expand our range of electric motors from 355 frame to 450 frame, a simultaneous action plan was to upgrade the required infrastructure. As part of our standard manufacturing practice, after copper winding, every LHP motor undergoes a Vacuum Pressure Impregnation (VPI), assuring the best quality. Hence, it was essential to upgrade the existing VPI facility to accommodate even 450 frame size windings. With this view, we have installed an additional, fully automatic horizontal VPI plant of pressure vessel size 2000 mm x 2200 mm with a 2800-litre, temperature-controlled resin storage capacity and a rotary baking oven. Besides ensuring quality, the facility is also helping us achieve higher productivity.
We are proud that we are the only motor manufacturing company in India to successfully implement a 100% VPI for motors up to 1000 kW and 450 frame size.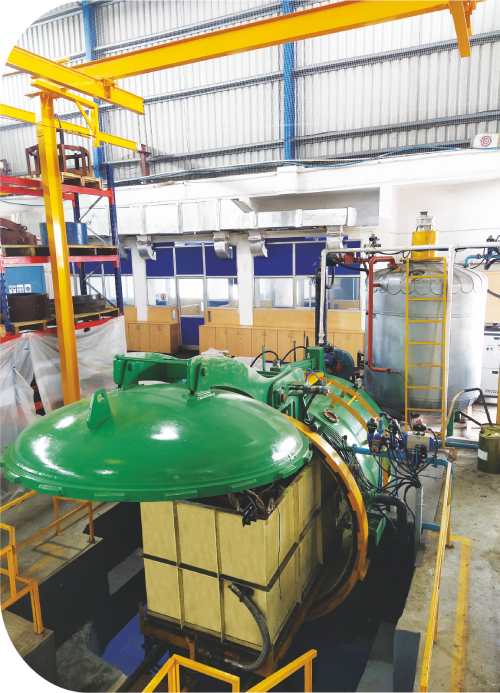 Customers to benefit from our new
Automatic Winding Set-up
Expect faster deliveries and consistent quality.
New automatic winding machines are the latest addition to our state-of-the-art manufacturing plant. The complete line includes an auto body-paper inserter, high-speed automatic coil winding, automatic coil insertion, auto 3D two-side forming and auto single-end lacing machine with an auto electrical testing set-up. It is being used to manufacture stators of 3-phase motors of the IE2, IE3 and IE4 versions of up to 100 frame size. It can easily handle 500 windings per day, enabling mass production.
At LHP, we are regularly making large investments with the aim of ensuring consistent high quality and increased productivity to meet the demands of our customers on time. Installing an automatic coil winding line is one such step towards the automation of our manufacturing processes.
We welcome your visit to witness the newly upgraded infrastructure.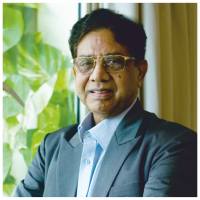 Who's who
Niranjan Singhvi
– President
A true veteran in the industry with over 45 years of experience, Mr. Singhvi is known to the industry as the 'Encyclopaedia of Electric Motors'. And truly, after investing nearly half a century working with several MNCs in the field, he has gathered immense knowledge on the design, manufacturing and applications of electric motors. He has fine-tuned his knowledge about the latest manufacturing practices being followed globally by visiting leading motor manufacturers in Europe, USA and China.
He leads the strategic functions and technical development at LHP and also invests his time in mentoring functional heads.
Qualifications: B.E. Electrical
Special Achievements:
Certified Energy Auditor
Ex-visiting faculty at IIT, Powai and COEP, Pune
Ex-member of European International Panel of Experts on Motors
Annual Sales Meet 2022
We have a strong team of over 100 sales engineers, strategically located in all major cities in India. For them, our Annual Sales Meet is a much-awaited and
cherished event. It provides them an opportunity to meet-and-greet after a long time and share each other's achievements. Extraordinary achievers are felicitated and provided with an opportunity to share their success stories. This year's Meet, organised for two days in Solapur, was special, as it was being held after a long gap of two years.
The management team narrated the latest developments in manufacturing, products and infrastructure during the visit to the factory. A good brainstorming session helped in discussing the market potential and goal setting for teams as well as individuals. The session ended with a keynote address by the Managing Director on how best we can serve our customers by adding value to their business and reinforce our image as a customer-centric organisation.
LHP Family Day 2022
Family day 2022 was celebrated on 27th April. Participation by everyone and culture programme organised by the team members made it a grand event. Thank you, team!